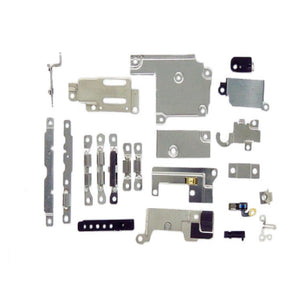 22 Piece Replacement Inner Metal Bracket Set for iPhone 6S Plus
For sale is a replacement inner bracket set for the iPhone 6S Plus. 
This set contains 22 of the holding brackets that hold components in place and protect others from heat and damage. This set contains but is not limited to a new set of volume and mute switch brackets, ear speaker bracket, home button bracket, power button bracket, heat shield, grounding clips and more. 
If you have lost any of the small inside pieces from your iPhone 6S Plus then this kit should contain the piece that has been lost. 
If there is a specific piece you are after, please message us and we can check to make sure it is included.