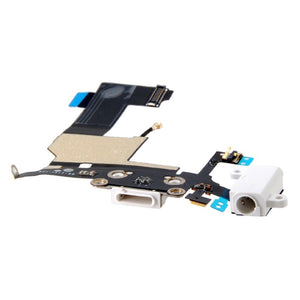 White Dock Connector - Headphone Jack - Antenna Replacement for iPhone 5
For sale is a replacement charging port for an iPhone 5. This item comes complete with a new dock connector, headphone jack, cellular antenna, lower microphone and home button connector. The part is brand new and tested so you can buy with confidence. This part is compatible with the iPhone 5 16GB, 32GB and 64GB. 
This item is shipped from the UK, we offer free shipping to UK addresses. Worldwide shipping is also available. 
An 8 piece tool kit is also available for a low extra price. 
Summary:
For iPhone 5 (model number: A1428, A1429 and A1442)
New White Charging Port
New White Audio Jack
New Cellular Antenna
New Home Button Connector
New Microphone
Part Number: 821-1417-A